He fashions his own improved version of the traditional Bulgarian gadulka by using time-honored skills and materials in this handicraft.
Six-time first prize holder for gadulka making at competitions for folk instrument artisans. 
Principal of the "Iliya Barnev" School of Music at "Razvitie 1869" community club in Razgrad (since 2016).
The bowed string gadulka with its distinct grating, multi-layered sound is the most typically Bulgarian folk instrument. According to some historical data, the instrument arrived to what is Bulgaria today with the Bulgar settlers of Khan Asparuh, along with the craft of gadulka-making. In our day, this specific branch of lutherie is practiced by no more than ten genuine masters. Along its path over time, the gadulka remained almost unchanged, in contrast to the classical bowed string instruments in the rest of Europe. As late as the 1950s, for the needs of the newly formed folk performance groups under communism, changes were introduced to the gadulka body, structure and number of strings. Typically, а gadulka has three main strings that are played with the bow and are complemented by sympathetics (resonating strings). It was their number that increased to 11. Great credit for the development of both technique and performance, as well as of the instrument itself, goes to concertmaster, conductor and gadulka-maker Atanas Valchev.
Gadulka string instruments and a wooden box for a gadulka, crafted by the hands of Deyan Denchev
Nowadays, fewer musicians opt for the gadulka, which results in a falling demand and, consequently, in a fall in the number of artisans making the instrument. Although there are no more than ten of them currently, they never stop developing and perfecting it – each in their unmistakable, unique way, and expressing their creative, musical and personal pursuits.
– The old masters made gadulka instruments exclusively from sycamore. This is already quite an issue for us because sycamore forests are close to being exhausted.
Deyan Denchev from Razgrad, a musician and master luthier with a wide range of talents and a long creative biography, strives to improve the instrument both functionally and aesthetically. One could say that he is a hereditary gadulka player – his grandfather too played the instrument. From his grandfather and father he also inherited the skill of working with wood – in fact, he grew up in the workshop and still uses some of the family tools. Deyan has been playing the gadulka since the second grade at the initiative of his parents, who noticed his musical talent, and since 2016, has been the principal of the music school where he once started his own training. After the seventh grade, he continued his education at the Shiroka Laka National School of Folk Arts, later studied Music Pedagogy at the University of Shumen and received a master's degree in Performing Arts, Management and Production from Varna Free University. Deyan also plays the drum and keyboards, but his great love is the gadulka and he decided to make it more perfect.
In 2015, after ten years of searching and experimenting, his first finished gadulka was a fact. In 2016, with the same instrument he won first place at the Rodolyubie festival of folk memory where masters of folk musical instruments display their works. In August 2022, he was again awarded first prize for the sixth time in a row.
The innovations that the artisan introduces are mostly related to the sound characteristics of the instrument. He has reduced the number of sympathetic strings from 11 to 6, so that there is no overlapping of the overtones they produce. He has also developed his own set of strings for gadulka, which makes things much easier for his colleagues, who did not have access to quality strings for ten years after the death of the last master Lilyana Geshevska, explains virtuoso Peyo Peev, who himself plays a gadulka crafted by the Razgrad luthier.
In gadulka making Deyan Denchev is more or less self-taught – he gained knowledge mainly from literature and from experience, but the luthier of classical instruments and guitars from the city of Ruse Ivo Voykov, whom Denchev calls his teacher with great respect, has also helped him in his research.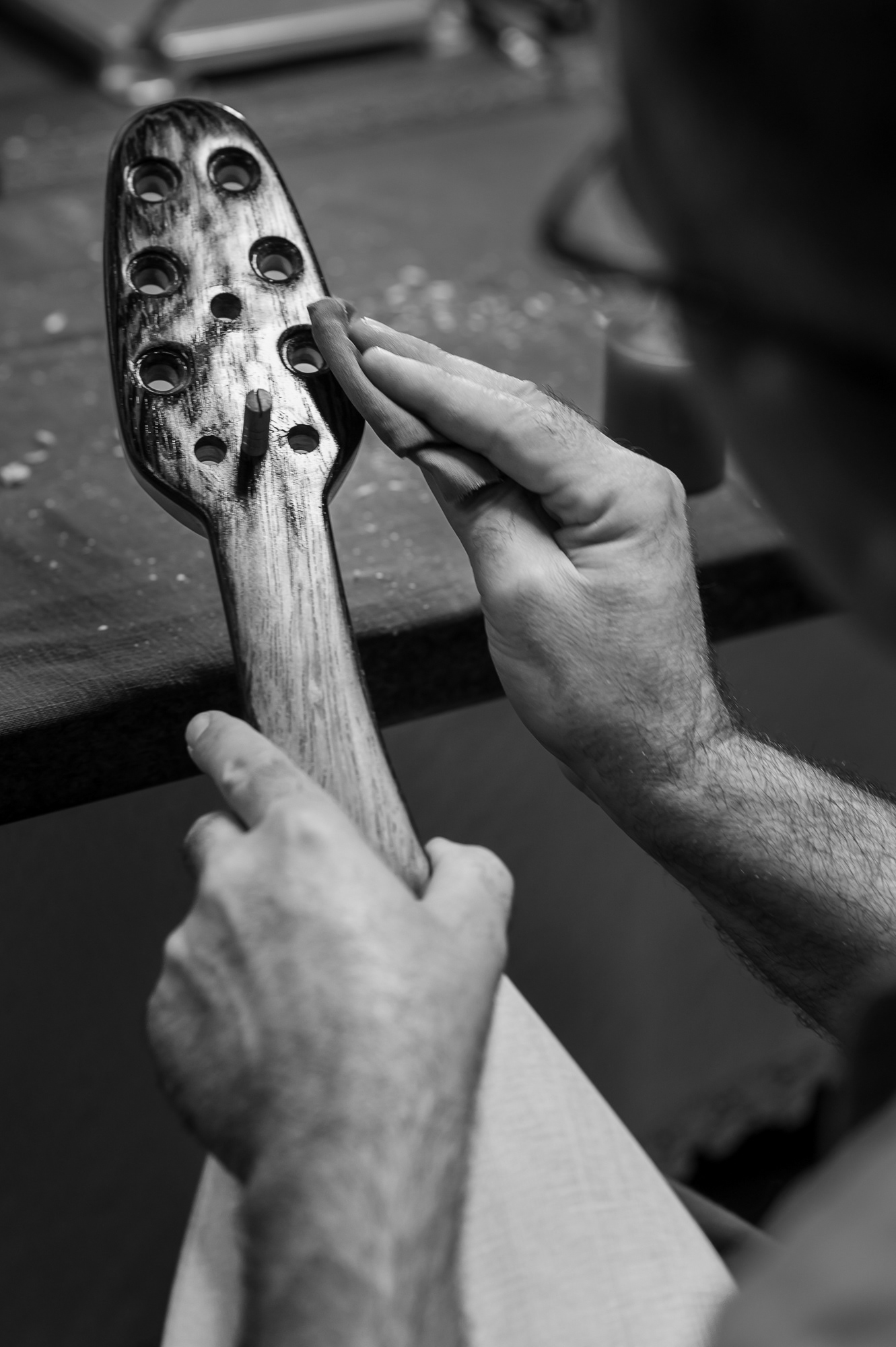 – I have also made an electric gadulka, but for me the challenge is the acoustic instrument
The artisan musician emphasizes the aesthetic part of his instruments – he uses high-quality wood by combining the traditional sycamore, spruce and wild pear with exotic woods such as rosewood and ebony and applies inlays of mother-of-pearl and silver. He has made three gadulkas from maple – a material uncommon for gadulka, but boasting superb acoustic value.
–

There

is a big difference between a teacher and a lecturer. The relationship between a teacher and his student is close, quite specific. My teacher Ivo Voykov, apart from giving me a lot of knowledge, also influenced my personality with his wisdom and dignity.
Deyan has also crafted a wooden box – a gadulka concert case from walnut root and boxwood with inlays of silver and mother-of-pearl and with magnetic closure. He has experience in making tambourines as well, and has so far crafted two. With one of them, he won first place for craftsmanship at an artisan competition, while actor Kamen Donev plays the second one. With his current schedule as principal of the music school, tight with his performances with the Kapan National Ensemble and with private appearances as a musician, Deyan Denchev manages to make up to two of his exclusive instruments a year.
Explore the additional story about master Deyan Denchev​ on the pages of 
Eight
 printed magazine​​​​​
Crafted by Hand. Photo Diary (2022)
Denislava Dikova (assistant)
2022 Culture Program, Gabrovo Municipality